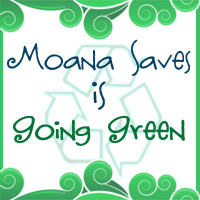 Living on an island can shape our perspective about how our lives impact the planet and either positively or negatively affect sustainability. We're not suggesting that we are green experts. Rather, we are interested in highlighting how we think, shop and spend can evolve so that can sustain the earth's future for our kids. Plus we're looking at some really cool stuff! Stay tuned!
Let me just say how excited I was to try
the T-Wave Cleaning Capsules Laundry Kit and Booster from EcoMom.com
. When the kit came, I opened it to find 3 UFO-shaped capsules filled with what sounded like rocks. In the kit was also a 32 oz laundry booster which looked normal enough. I remained cynical about this kit up until I washed the first load of laundry with the kit. Even then I had this kind of conversation with myself:
Me: How can this work? It's not logical. It's hoodoo.
Me, too: Have faith! You just can't keep up with advancements in technology.
Me: But they're rocks in these capsules. And you just put them on top of the dirty clothes and run the cycle?
Me, too: Yep. And your clothes smell clean and fresh (although not perfumed) when the cycle is done.
Me: It must be the laundry booster that's working. Although I don't know how it can work. A capful is barely two teaspoons' worth. And I know how to pack a washing machine full of dirty clothes.
Me, too: Um, don't forget that just the capsules alone worked when you didn't use the booster.
Me: I know . . . weird.
Ok, as you can see, the conversations I have with myself are boring. It was a way for me to say that these capsules work and I can't quite explain why but I can testify that I stopped using laundry detergent two weeks ago and the clothes are just as clean as before using this system.
With the T-Wave Cleaning Capsules Laundry Kit and Booster there is no need to add
harsh detergents or chlorine bleach, just add a cap-ful or two of the natural cleaning Booster Liquid. A powerful vegetable base formula with assorted natural enzymes, which can also be used to pre-spot stains, is all you need.
Here are some unique features of the kit. It is:
Hypo-allergenic
Gentle on fabrics Environmentally friendly
Saves money -- lasts up to 700 washes (that means with 700 loads, you pay .08 per load!)
32 oz. Cleaning Booster included
Made in USA
Things for you to know about the kit: This is not a stain remover. This will clean your clothes, remove odors and grime. You don't need to add the booster to the wash, the capsules will work on their own. You may use a stain remover with these.
One thing I love about EcoMom is that they thoroughly research the companies they buy from and the products they sell. As a shopper on their site, that means that my purchase supports ethical and green companies as well as helps me to be an ethical and green consumer. So I love the EcoMom approval stamps at the bottom of the product description because, in the case of the T-Wave Cleaning Capsules Laundry Kit and Booster, the stamps indicate the following about the company producing the kit and the kit itself:
Fair Trade
Recycleable
Smart Packaging
Good Value
Innovation Superstar
Cruelty Free
Sustainable Production
So, in summary, this kit works and is a product I highly recommend. I don't know why (although I think it has something to do with the ceramic pellets inside the capsules ionizing the water in the wash to effectively clean clothes) but I know it works.
SHOP
: You can purchase the T-Wave Cleaning Capsules Laundry Kit and Booster from EcoMom
HERE
.
WIN
: Thanks to the great folks at EcoMom, one lucky Moana Saves reader will win a $50 Gift Certificate to EcoMom.com! To win, follow the mandatory entry requirement below and any optional ones you'd like with a separate comment for each
:
To earn a
mandatory
entry, go check out the
EcoMom site
and tell us what you would spend your $50 GC on.
Mandatory
means that if you don't do this first, all of your other entries will be disqualified.
To earn an additional entry, do one (or all) of the following and leave a separate comment for each thing you do:
1. Become a Google Friends Connect follower of Moana Saves (in the sidebar).
2. Become a Networked Blogs follower of Moana Saves (in the sidebar).
3. Follow
Moana Saves on Twitter
.
4. Follow
EcoMom on Twitter
.
5. Tweet about this giveaway (limit one tweet per day) using the following:
#Win an EcoMom $50 GC from @EcoMom and @moanasaves #giveaway ends 4/8 http://bit.ly/ieVCjd
6. Subscribe to the Moana Saves feed via RSS reader and/or email updates (in the sidebar).
7. Like the
Moana Saves Facebook page
.
8. Like the
EcoMom Facebook page
.
Only one person per email/household/IPaddress can enter this giveaway. He/she must be 18+ years old and reside in the U.S. This giveaway ends on Friday 4/8/11 at 11:59 PM HST (Hawaii Standard Time). One winner will be chosen randomly via Random.org. I will notify the winner via email and he/she must respond to claim the prize within 48 hours or I will draw another winner.
I was not compensated for this post although I did receive product samples to facilitate this review. Any and all opinions here are mine.