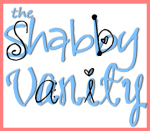 Ever since Madeline Mele of
The Shabby Vanity
did my blog design at the end of August, I've wanted to feature her and her business here at Moana Saves. Working with Madeline on the blog design was great. She is efficient and professional, listening to me every step of the way yet also adding her expertise when I dawdled. I was almost sad to see the process end! Further, Madeline has been great about answering my design questions or making adjustments after the original work she did.
Here
are some recent designs she's done. Hard to miss mine and the other blogs are fabulous, too!
I interviewed Madeline recently for the readers of Moana Saves:
How did you get into creating blogs? What do you like most about designing?
Since I am far away from most of my family and friends, I needed a way for them to keep up with my new little family. So I created a family blog with Blogger. I loved messing with the designs and reading tutorials on how to improve the look of my blog. Blog design uses a lot of coding such as html, javascript, and css. So I committed to learning those codes by reading articles, writing codes, and ultimately working towards html certification. Then I realized that I could help others with their blog too!
What I like most about designing blogs is seeing the reactions of my clients when they see their new blog design for the first time. That initial reaction of "I have a cute blog now!" is great!
What design tip can you give to bloggers?
Make your blog how you want it to be! There are so many great tutorials out there that can teach you how to design your own blog. Having a great look on your blog not only increases traffic flow- but when your design looks professional, your content begins to improve too! Designing it yourself can be time consuming and require extra computer programs like Photoshop, Illustrator, and other third-party resources. However, most of the time, basic things like adding a post divider, or uploading a background can be done pretty easily if you are following a good tutorial. When things get complicated because you want a design that no one else has, you don't have the resources to follow a tutorial, or you just don't have the time- that's when you contact a blog designer to do it for you!
As a mom and a business owner, I know you're busy and you work hard. When you get some time for yourself, how do you like to pamper yourself?
Just like everyone else that has multiple responsibilites, I feel like life is a juggling act. In order to make the most of my time for myself- I do what I enjoy. Whether that day it's make a batch of cookies, take a bubble bath, or update our family blog- I just make the most of it!
Okay, so you know about my process of working with Madeline on Moana Saves and you know more about Madeline, the blog designer and mom. Check out her blog
here
where you can see her custom blog designs she's done, grab a button or just hang out. Madeline is also offering one lucky Moana Saves reader a complete blog makeover! Check out the info below:
You could win a free Custom:
Background
Header
Button/Blinkie
Post Signature
Post Divider
1. Become a follower of
The Shabby Vanity
and Moana Saves with Google Friend Connect (This is the mandatory entry).
2. For the mandatory entry, leave a comment. For all of the extra entries, leave a comment for each.
Extra entries include
5. Tweet about this giveaway (once a day) and post the URL: #Win a blog makeover from @TheShabbyVanity and @MoanaSaves http://bit.ly/bzXGu2 ends 11/9
7. Grab a
Shabby Vanity button
and post it on your blog!
Only one person per email/household/IPaddress can enter this giveaway. He/she must be 18+ years old and reside in the U.S. This giveaway ends on Tuesday, November 9th at 11:59 PM HST (Hawaii Standard Time). One winner will be chosen randomly via Random.org. I will notify the winner via email and he/she must respond to claim the prize within 48 hours or I will draw another winner.

Disclosure: I did not receive any form of compensation from The Shabby Vanity to host this giveaway. Any and all opinions are my own.